Now that I've finished
Spencer's Dr. Who scarf
, it's time to get back to sweater knitting. I feel like I'm cheating when I knit smaller projects like scarves, mittens, and Christmas ornaments. I am indeed a monogamous knitter; I am devoted to sweaters (and maybe a vest).
My next project comes from the Spring 2013 issue of Interweave Knits. I'm making
Bartok's Tunic
by my favorite designer,
Julia Farwell-Clay
.
Julia designed the last sweater I made, the
Hiro
, my best cardi ever. Bartok also involves colorwork, but this time it's intarsia inspired by Hungarian embroidery. I went searching to see what this embroidery looks like and discovered an amazing
90-year-old Hungarian tunic
. You can see just what Julia had in mind when you examine this Bohemian beauty.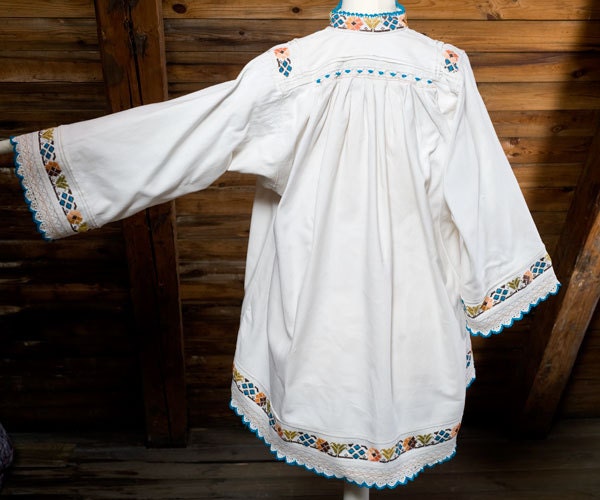 For my Bartok, I'm using Rowan Belle Organic Aran by Amy Butler in Moonflower, Peacock, and Tomato. I'm envisioning a white background with blue birds and pink trim but we'll see how it goes when I swatch the motif (I am waiting for the Peacock and Tomato colors to get here).
As always, I cast on for the first sleeve. So far, so good. Unfortunately, the pattern only comes in sizes up to 48 inches. I wish Interweave Knits would get it. On occasion, the magazine throws in a larger size, but not usually. In a world where 60 percent of Americans are overweight or obese, you'd think Interweave would want the business. Apparently not. This simply-shaped garment is fortunately easy to upsize - for the six knitters nationwide who know how to upsize patterns. I'm being both hyperbolic and honest.
I'll explain how I'm upsizing this sweater as I go. For the sleeves, it's a simple fix: the entire sleeve is the same width as the widest part of the sleeve before decreasing for the armscye. On the pattern, the measurement for the largest size 17.75 inches. My upper arm measurement with ease is 20 inches, so I cast on for 20 inches of stitches and am knitting upwards. Easy peasy.
To figure out how many stitches to cast on for the sleeve, I multiplied the gauge by the total inches needed and then added two stitches for the seam. So:
4 stitches per inch X 20 inches finished width = 80 stitches + 2 seam stitches = 82 total stitches
I'll keep you posted as I go, so come back soon!