I'm selling off some stash at fabulous prices. Just go over to my Etsy store to make a purchase. All prices include FREE shipping to the continental USA!
---
CLASSIC ELITE BAM BOO
SOLD
16 skeins or over 1800 yards of Classic Elite Wool Bam Boo in color 1616 White. All are the same dye lot. All skeins are clean; 10 skeins are bagged and the rest are in as is, perfect condition.
Classic Elite Wool Bam Boo's wonderful combination of fibers produces a yarn with drape, softness and sheen, plus bamboo's hypoallergenic and antimicrobial properties.
Content: 50% Wool/50% Bamboo
Care: Hand Wash
Weight/Yardage: 50g/118yd
Gauge: 5.5 sts = 1" on US 6
Knitting Weight: DK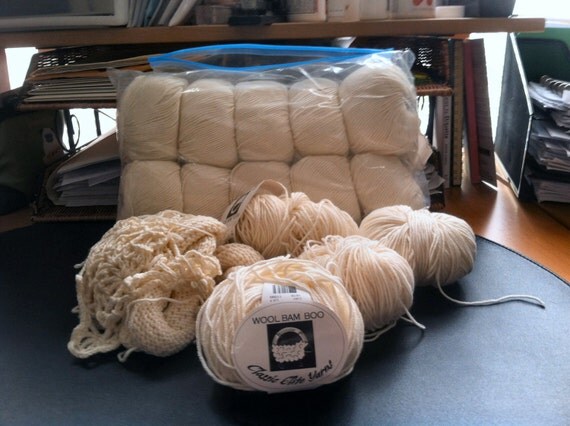 ---
BERROCO COMFORT CHUNKY
BUY NOW - $33 includes free shipping to continental USA
8 skeins or 1200 yards of Berroco Comfort Chunky in color 5734 Black. All are the same dye lot. All skeins are bagged in perfect condition.
Berroco Comfort Chunky is soft, easy care, and perfect for those quick, sometimes last-minute knits-great for blankets and more!
Content: 50% Super Fine Acrylic/50% Super Fine Nylon
Care: Machine Wash Gentle Cold, Dry Flat
Weight/Yardage: 100g/150yd
Gauge: 3.5 sts = 1" on US 10.5
Knitting Weight: Bulky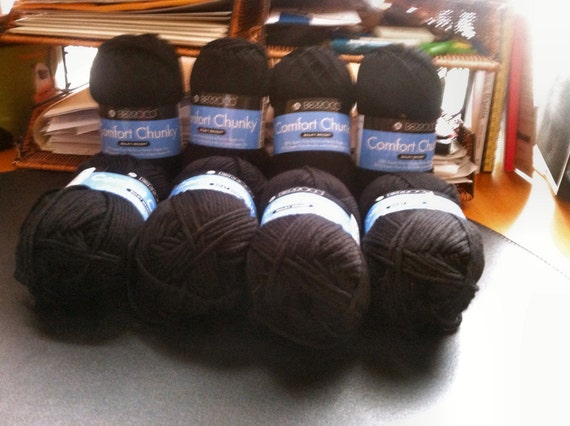 ---
KNIT PICKS WOOL OF THE ANDES
SOLD
1780 yards of Wool of the Andes in Blossom Heather, a beautiful delicate pink. Wool of the Andes, a classic worsted wool yarn spun that is plied carefully to achieve a wonderfully balanced twist, provides a sturdy yet soft yarn with excellent stitch definition and heirloom durability. Peruvian sheep are a cross between Corriedale (for the sturdiness) and Merino (for the softness), producing a strong fiber with an excellent softness quotient for a wide variety of uses. Felts beautifully.
Fiber Content: 100% Peruvian Highland Wool
Yarn Weight: Worsted
Knitting Gauge: 4.5 - 5 sts = 1" on #6 - 9 needles (4.0mm-5.5mm)
Crochet Gauge: 11–14 sc = 4'' on I - K hooks (5.5 mm-6.5 mm)
Yards: 110yds
Grams: 50g
Put Up: ball
Care: Hand Wash/Dry Flat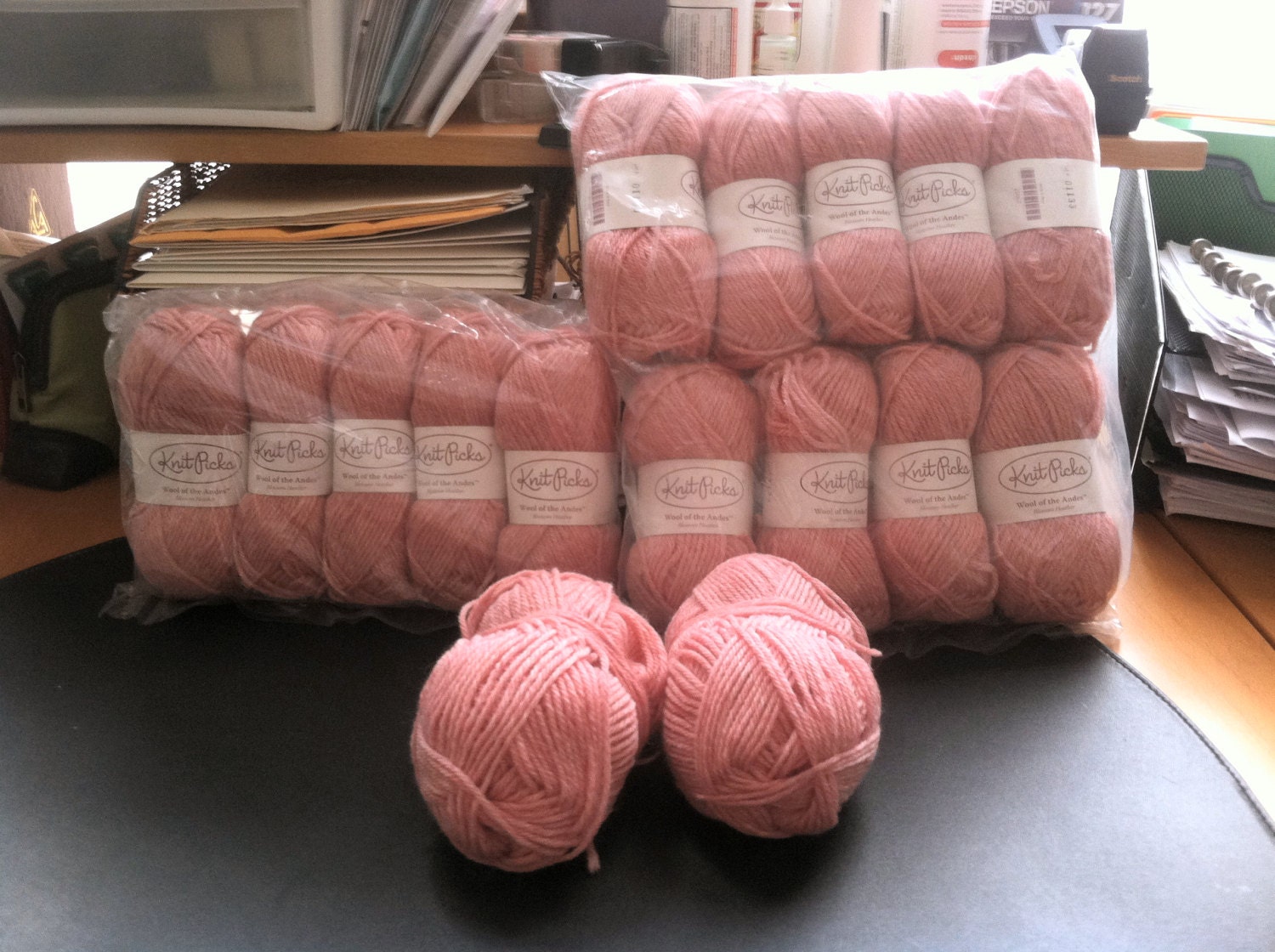 ---
KNIT PICKS COMFY BULKY
Knit Picks Comfy Bulky in Flamingo - at least 2500 yards - includes unfinished plus-size sweater!
Soft and machine washable, Comfy Bulky is the ultimate solution for easy care and warm weather knitting. The breathability and softness of natural Pima cotton allows for comfortable wearing, while the touch of acrylic microfiber adds just the right amount of elasticity. This bulky cotton blend has superior wearability and longevity, which you are sure to appreciate over the years. Excellent stitch definition too!
Fiber Content: 75% Pima Cotton, 25% Acrylic
Yarn Weight: Bulky
Knitting Gauge: 3.5 - 4 sts = 1" on #9-10 needles
Yards: 136yds
Grams: 100g
Put Up: ball
Care: Machine Washable/Tumble Dry Low