Need a warm vacation after this miserably cold winter? Then knit from
Stephannie Tallent's
"Lace 1," the first e-book in her new collection called "The Wild West: Patterns Inspired by the Flora, Fauna, Geology, and History of Arizona."
Photo by John Fowler
Inspired by her years living in the Sunshine State, this collection of five e-books draws on the desert which, "has a beauty all its own. Colors are often muted, softer, a bit dustier: but then you get flashes
of turquoise sky or red rocks with a vibrancy that shimmers," she says. "From the vista of the Grand Canyon to the red rocks of Sedona, the hues of the Painted Desert, the impact of Meteor Crater, to the subtle colors of the Petrified Forest — there's so much to see and experience."
Stephannie has divided the Wild West collection into five books based on technique. Her first offering,
Lace 1
, presents five beautiful patterns:
The
Bisbee Blouse
, a romantic, lightweight top with 3/4 sleeves, relies on delicate but simple intarsia lace panels to form figure–flattering vertical lines. As Stephannie says, "The dainty buttonband details, I–cord neckline, waist shaping and softly fluttering sleeve and body hems all combine into a gorgeous feminine sweater that you'll treasure." The Bisbee comes in sizes up to a 54" bust.
I like the look and feel of this blouse, which reminds me of the corsets and undergarments women worn in the 1880s - although this is clearly a far more comfortable, unstructured alternative. The comeliness remains.
The back emphasizes the curve of a woman's waist and hips - very sexy in an understated way.
Stephannie's
Cactus Wren
camisole offers "flattering waist shaping and lace in abundance. Crocheted lace trim and delicate buttons give this a vintage feel." Knit in a fingerweight silk, Cactus Wren is a perfect warmer-weather garment, but you could also pair this with a blouse or jacket in cooler weather, too.
The Cactus Wren comes in sizes up to a 58.25 bust and can be easily modified for customized waist shaping or additional length.
Lace 1 also offers two shawlettes and a pair of socks, all designed in lace. Meet the Pinyon Jay with the beautiful bead detailing...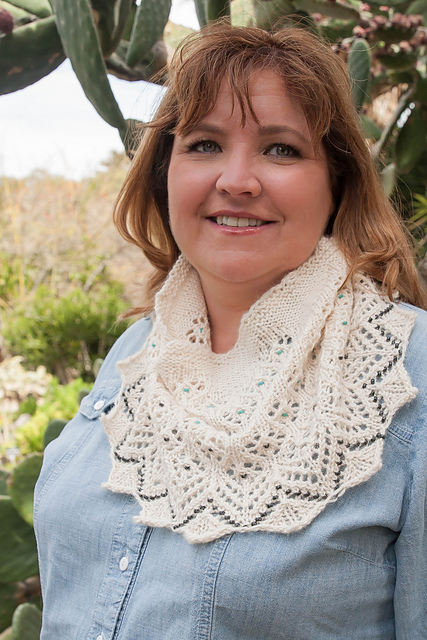 The Diamondback, which features a rattle edging...
You can buy Lace 1 from Ravelry for $20.
Stay tuned for the remaining four e-books in the Wild West Collection - I've seen a preview and I am truly psyched.
Her name says it all: Stephannie Tallent is truly talented.